I
am the son of an 508 PIR/82nd AB paratrooper who was wounded and captured on 6 June 1944. After a series of near death experiences at the hands of Allied fighter-bombers he ended up in the German POW Hospital for Allied POWs in Rennes, France. This location seems to have many names Rennes Military Hospital, E.P.S. Rennes, Stalag 221, Frontstalag 221 W are most of them. I am seeking information on the German units that ran and guarded the hospital. I know where the hospital is on Rue Jean Mace'; I have visited it and additionally I have some period photos with the POWs.
I
have a likely unit for the Polish/Czech guards ( 4./
Sich.-Regt. 195, (Landeschützen-Bataillon (Ls.-Btl) 907)) but the German medical staff eludes me. I have a couple of officer names (Oberstabsarzt Enzinger or Enziger or Entziger or Entziger)(Stabsarzt Lumpp or Lummp) but no real information on their unit. From the 7. Armee Order of Battle there is a couple of Kriegslazarett units (Kriegslazarettabteilung 612, Kriegslazerette 948 (S)) with no location that could be suspects but I have no information. Anyone have any information on the POW Hospital?
I have the Oberstabsarzt signature from a couple of sources if someone has a better eye for determining his name.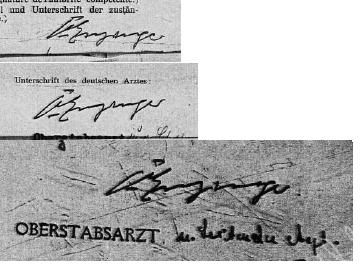 Any help would be appreciated.
Dale
LTC USA (Retired)